Bob Sargeant, Hummer Bird Study Group, bands the rare Rufous Hummingbird

Bird flies in to eat and is captured and thus, banded, weighed and examined by Bob Sargeant, below.

Six quarts of solution is used each day. Hint: never add red food coloring to solution or buy that with coloring in it. There is a possibility of it causing kidney damage. Solution-1 quart water boiled. Add 1 cup of sugar. Stir. Cool. The more feeders used, the more birds are attracted. Putting them within eyesight of each other, eliminates some of the territorial fighting.

To discuss humming birds, contact Joy.
Rare winter hummingbird nests at Linden

They're buff-bellied, broad-billed, white-eared and black-chinned. And they're in Vicksburg.

They're a rare species of winter hummingbirds, and they've been captured, identified and banded, or tagged, by researchers to determine why they're here.

"The ones that are here now are very rare. They come British Columbia to spend their winters in the Southeast. We're trying to figure out why," said Bob Sargeant, founder of the Hummer Bird Study Group.

Sargeant said the particular species of winter hummingbird identified at Linden Plantation in Vicksburg this year was the Rufous, but Black-chinned and Calliope species have been spotted here before.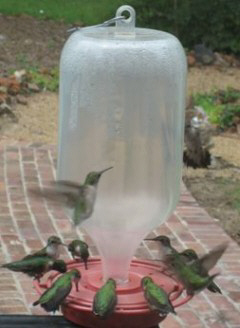 Joy Brabston, owner of Linden Plantation, said she first spotted the Rufous a month ago.

"They're not like the ruby-throated ones that are very friendly. They're very skittish and fly away in a heartbeat," Brabston said.
Sargent, who has been researching hummingbirds for 20 years, said six to eight birds are usually banded every winter in the northern part of Mississippi.

"But a lot depends on how many are reported to us. We depend on the public to notify us if they see one during the winter," he said.

"I encourage everyone to leave hummingbird feeders out during the winter and to contact me if they spot one from Nov. 15 to March 15," he said.